Birthday Video Tribute: Thelonious Monk is 100!
Thelonious Sphere Monk…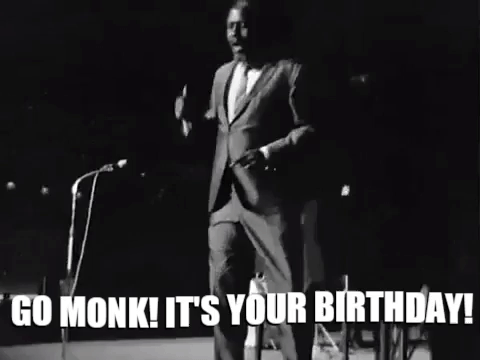 The name is synonymous with jazz. His quirky and hip look (the suits! the glasses! the hats!), is synonymous with jazz, his style of speaking, his impromptu dancing, his compositional style, with its melodic dissonance and odd twists, all are the epitome the music and its singular lifestyle.
Don't Blame Me 
IMO, Monk is jazz's greatest composer, next to his idol, Duke Ellington. Artists of all ages and abilities have performed some of his music: "'Round Midnight"; "Straight, No Chaser"; "Epistrophy"; "Pannonica"; "Ruby, My Dear"; "Well, You Needn't" and so many more of the classics of jazz.
I Mean You
Thelonious Sphere Monk, Jr., was born 100 years ago, in Rocky Mount, NC on October 10, 1917. He died on February 17, 1982, at the home of his dear friend, Baroness Pannonica de Koenigswarter. Many others, who are far more qualified, have written so much more about Monk, so I'm just going to share four video clips of some great live performances, featuring his longtime saxman Charlie Rouse, drummer Ben Riley and others.
Rhythm a Ning
Happy 100th Birthday, Monk! Thank you for all the gifts that you gave us.
'Round Midnight